Sherri's favorite local Black-Owned businesses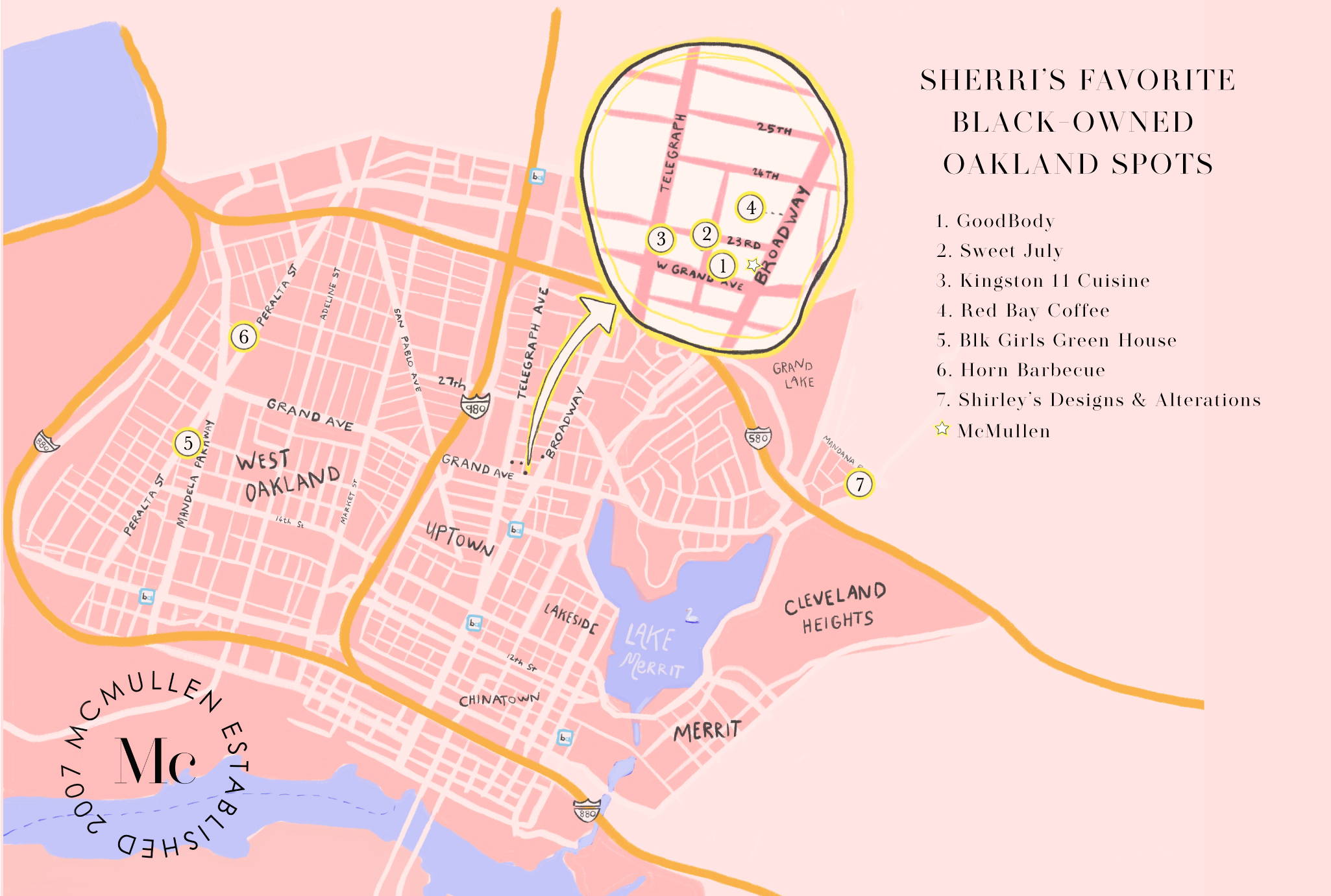 In honor of Juneteenth, we want to keep it local and celebrate Oakland's treasures. Explore some of Sherri's favorite local Black-owned businesses. These businesses are part of the McMullen family and have become the heart of our community as well as Sherri's weekly routine.
1. GoodBody is a gorgeous Oakland-based hair and beauty destination specializing in healthy, holistic hair care and wellness. They shatter stereotypical beauty standards by prioritizing good hair and good body from the inside out.
2. Sweet July founded by Ayesha Curry, is known for her beautiful curation of personal, Black-owned and local lifestyle goodies. Every section in her space is designed to excite and inspire, while also providing space to relax and enjoy a cup of coffee or a slice of Ayesha's signature bread pudding.
3. Kingston 11 cuisine is an environmentally friendly, community-oriented, innovative restaurant. Their mission is to provide consistent high-quality, delicious blends of Jamaican and Californian cuisines using local and organic ingredients. You can feel the warmth within the walls as well as the food and dishes prepared by Nigel Jones, who was taught to cook by his grandmother and his partner Adrian Henderson.
4. Red Bay Coffee is committed to ensuring coffee production is not only high in quality and sustainable but also a vehicle for diversity, inclusion, social and economic restoration, and environmental sustainability.
5. BLK Girls Green House is a plant and specialty home goods shop, a community space offering plant design and installation. Founders, Kalkidan Gebreyohannes and J'Maica Roxanne are committed to collaborating with Black-owned businesses and creators and inspiring conscious, local shopping and gathering.
6. Horn Barbecue is inspired by family, legacy and tradition. Chef Matt Horn has created soul food that acknowledges culture and comfort. From farmer's markets to his wildly popular pop-ups, Matt has introduced a new food movement that draws from those roots in Texas and the South. Matt calls it "West Coast barbecue."
7. Shirley's Designs & Alterations has been McMullen's partner for alterations for 15 years. We trust Veda's vision and can always count on her to bring out the best in us and our clothing.
We take pride in championing and highlighting black brands and visionaries at McMullen. It's important today and everyday to highlight and support the incredible work they are doing in their field and communities. Explore our Black Partners in store and online.