At-Home With Our Objects Buyer
At-Home With McMullen's Objects Buyer, Rodney Haynes
Take an inside look into our Objects Buyer's inspiration behind what has shaped his design style, and how he buys for the McMullen woman.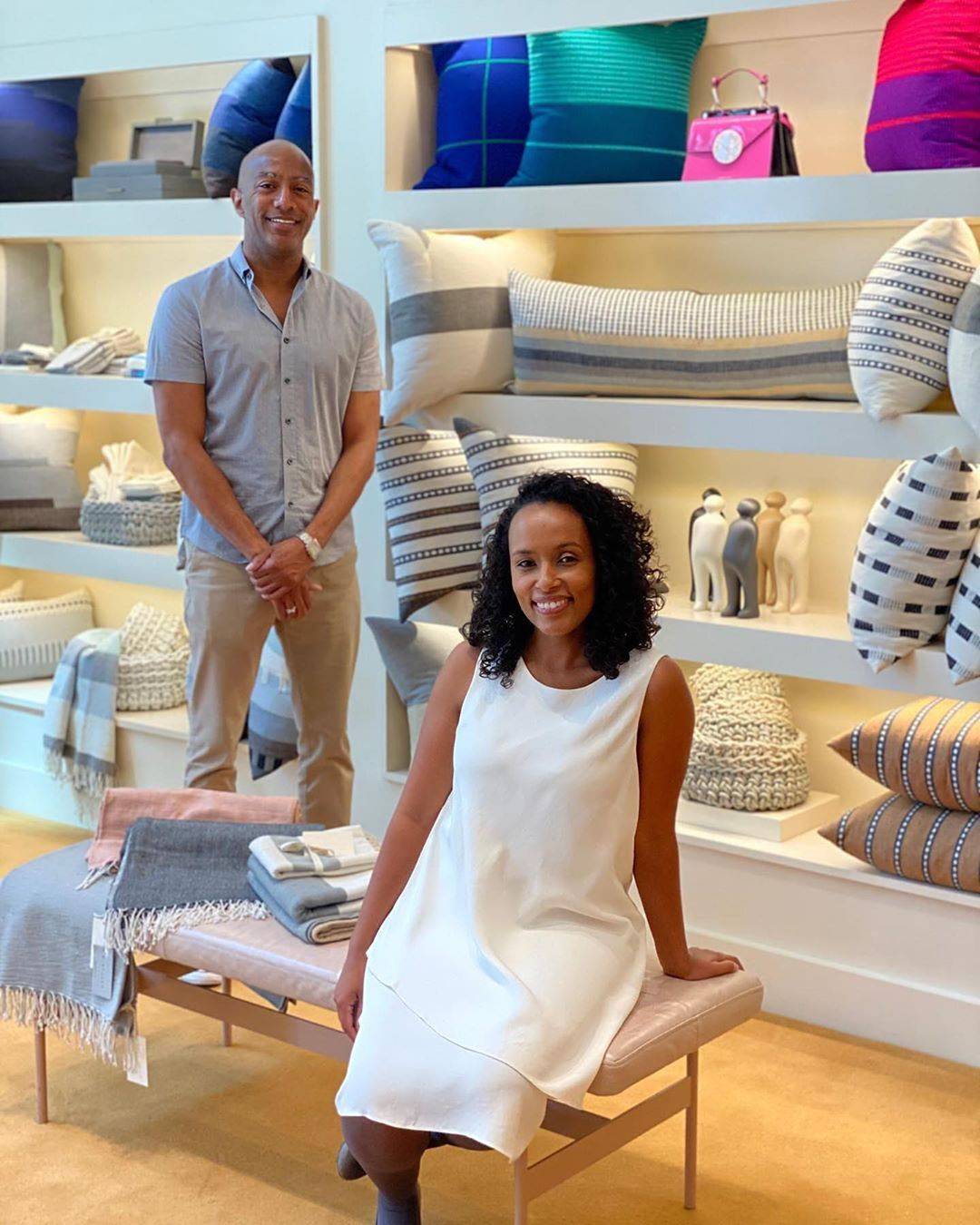 Rodney photographed above with Hana Getachew, Founder of Bolé Road Textiles.
Q: How did you get into interior design and home buying?
RH: "Growing up I wanted to be an architect. Unfortunately, the university that I attended didn't have an architecture program, so I decided to study electrical engineering. Although my academic pursuits changed, my passion for design never really dissipated. Once in the working world and making a little money, I was able to express my creative side through design updates and remodels that I did for myself personally. Friends and colleagues started to take notice of my work and eventually I was able to turn my passion into a career.
As for my entry into becoming a home accessory buyer, Sherri McMullen is really responsible for that chapter. She and I met at the home of a design client and mutual friend. She liked what she saw and asked me to help tweak the design of her first store, and later I helped design the second store in Palo Alto. When she decided to incorporate home goods into the Oakland flagship store, she asked me to be the buyer. Home buying was completely new to me and I'll admit that I was quite hesitant to do this for McMullen. As a designer, when you source product for a project, nothing is purchased without the client's prior consent. As a buyer, you don't have that luxury — you have to anticipate what customers want and what they are willing to pay for way before they are introduced to the item. In response to my hesitancy, Sherri gave me some sage advice, to "go with my heart, buy what I love, and people will respond." I followed her guidance and every piece that is curated for McMullen is something I would have in my own home at the price point that I would pay for it. Seeing that the home accessories sales continue to grow and do well, I'm thinking that Sherri's advice was quite sound."
Q: What do you look for when buying home pieces?
RH: "I primarily look for two things when buying home pieces: a unique design that is consistent with the McMullen brand AND a unique story behind that design that is consistent with McMullen's values.
The McMullen brand, like the McMullen woman, is dynamic, sophisticated, savvy, and authentic. I strongly believe that the McMullen Home Collection should evoke those same qualities and that it be multilayered — there should not only be delicate pieces, but bullet-proof, kid-proof options as well. Whimsical items are just as important as our more formal pieces. The one common element is that all of the pieces be unique and special. I think that's the best way to capture the McMullen woman, and help tell her story through her home decor.
As for McMullen's values, I try to focus on emerging brands, especially ones that are headed by women and/or people of color. I also try to seek out those brands that provide some type of societal benefit which often means economic empowerment to marginalized communities. Marco500, Bole Road, and Gardeco are three of our best-selling lines that come to mind that fit that profile. All of these brands either directly manages or contributes a portion of their proceeds to programs designed to develop and train artisans in their respective crafts helping uplift them and their families out of poverty."
Bolé Road Textiles photographed at Rodney's home in Oakland.
Q: Who/What are your influences?
RH: "My hometown of Seattle and the widespread precense of Scandinavian design has been a significant influence on my interior design aesthetic and ultimately the pieces I am drawn to when buying for McMullen. Clean lines with a focus on materiality always catch my eye.
Other influences and influencers? My parents. California. The architect Paul Williams. The artist Jacob Lawrence. Dinah Washington. Prince. The set designer George Hopkins."
Q: What does it mean to you to be a Black creative?
RH: "Being a black creative simply means that my perspective on design is and will be heavily influenced by my life experience as a black person. In response to society's historical push to degrade, devalue, and dehumanize black people, I think as a black creative it's imperative for me to create spaces and find products that celebrate black culture, bodies, and community. I also think that it is key to create and nurture an ecosystem where other black creatives can flourish and thrive. McMullen affords me a wonderful platform to push and promote black design and the talents of other black creatives."

Q: How has Oakland shaped or inspired your taste?
RH: "Oakland is a wonderfully scrappy and gritty city that taught me that refined doesn't have to be dull or heartless — one lesson learned is that it is perfectly fine to pair Jordans with a Cartier tank watch. That lesson in fashion translates to interior design and home buying — it's okay to place a pillow embroidered with 'Black Lives Matter' on a Roche Bobois sectional. That's called soulful design and that's what Oakland bestowed upon me.
Oakland's tradition of activism has also made me very democratic in my approach to design: I believe everyone is deserving of a beautifully designed home. Not a lot of designers think that way."
Our vases shown above from Lilith Rockett's ceramics collection.
Q: What are your favorite home picks right now on McMullen and why?
RH: "Our Corsi Twin Vase. The vase is very unique and it's what I like to call "lifeproof" — you can drop it on the floor a thousand times, and it won't break. As practical as it is, it is also very sexy. A room can never be too sexy.
Lilith Bud Vases: As beautiful as these vases are individually, it is the cluster of five or six vases that create a very impactful display. I really love clustering pieces together and these do it wonderfully.
Marco500 BentaBowls: These bowls are from Brazil and make me feel so tropical — even the scent of the wood is just so exotic. The pieces really work in a kitchen or in an entry as a catchall."
Corsi vases shown above, photographed in Rodney's home.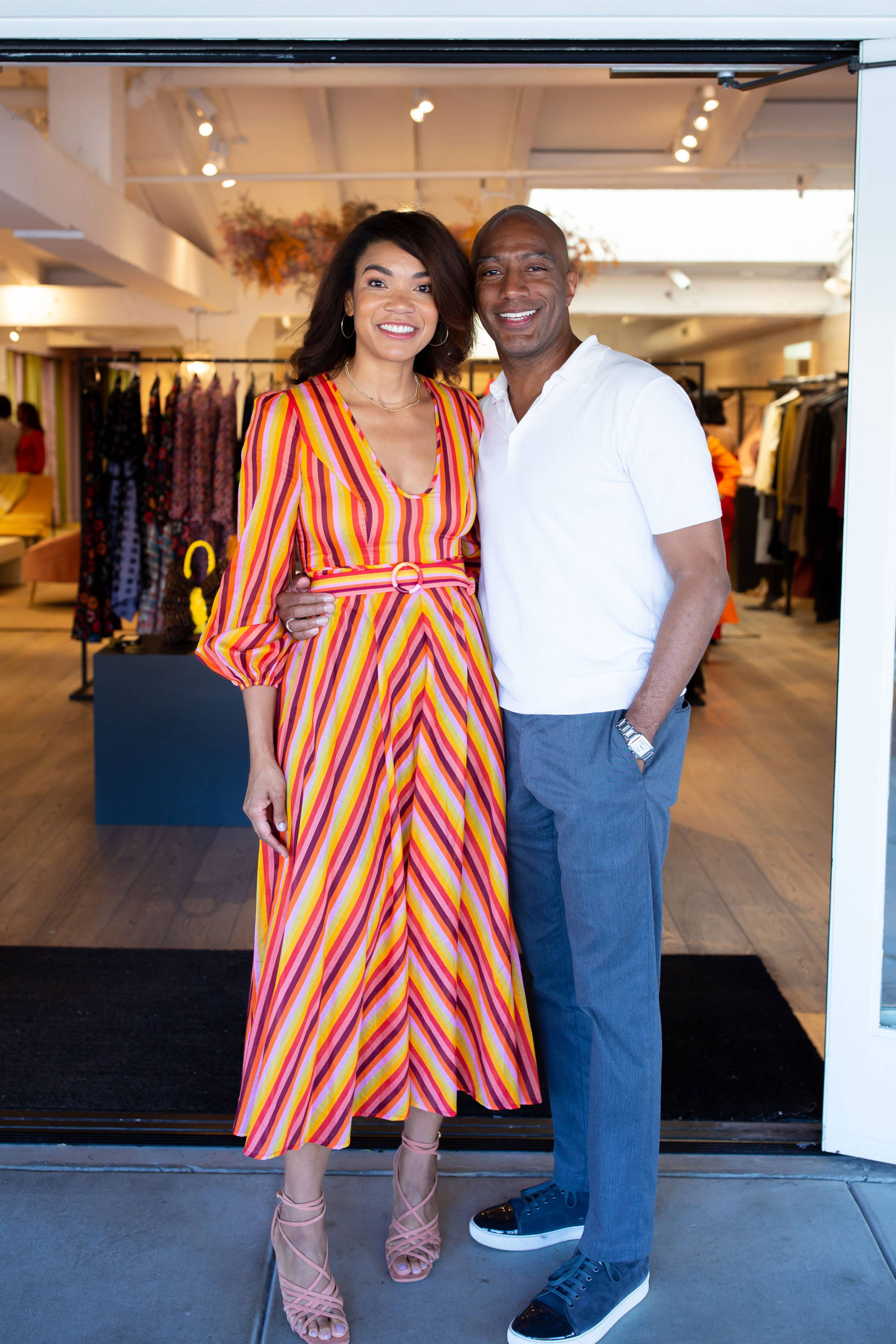 Rodney photographed by JetKat with Sherri at the Palo Alto store opening in October 2019.
"I've always been drawn to Rodney's eye for detail and his way of mixing relaxed luxury with a minimalist approach. When we traveled to our first home show in Paris, we found the most exquisite pieces that he knew our customers would enjoy. He thinks about functionality as well as beauty which is important to our McMullen customer. I've enjoyed watching the home category grow for McMullen, especially during this time when people are spending more time at home with family and loved ones."
— Sherri McMullen