Designer Spotlight | Lisa Folawiyo
Introducing the Lisa Folawiyo Collection Exclusively at McMullen
Lisa Folawiyo is a Lagos, Nigerian based designer exclusively carried in the US by McMullen. Lisa Folawiyo is best known for her innovative use of Ankara and traditional African fabrics utilizing her close relationship with local artisans. Featuring traditional hand dyed fabrics, beading and mixes of silk. The fabrications help to create the most beautiful and unique pieces with customs prints. Using her incredible design skills, she elevated Ankara, a common fabric, into luxurious and covetable designs.
 Each Lisa Folawiyo garment showcases a handcrafted and unique story from inception to construction. Folawiyo's expert Nigerian artisans hand embellish each Lisa Folawiyo piece, on average a 240 hour process that reflects the brand's focus on design integrity. We sat down with Lisa to highlight her inspirations, process, and work with local Nigerian artisans. Read the interview and shop the collection below.
Lisa photographed by FFW about one of her initiatives, The Jewel Group.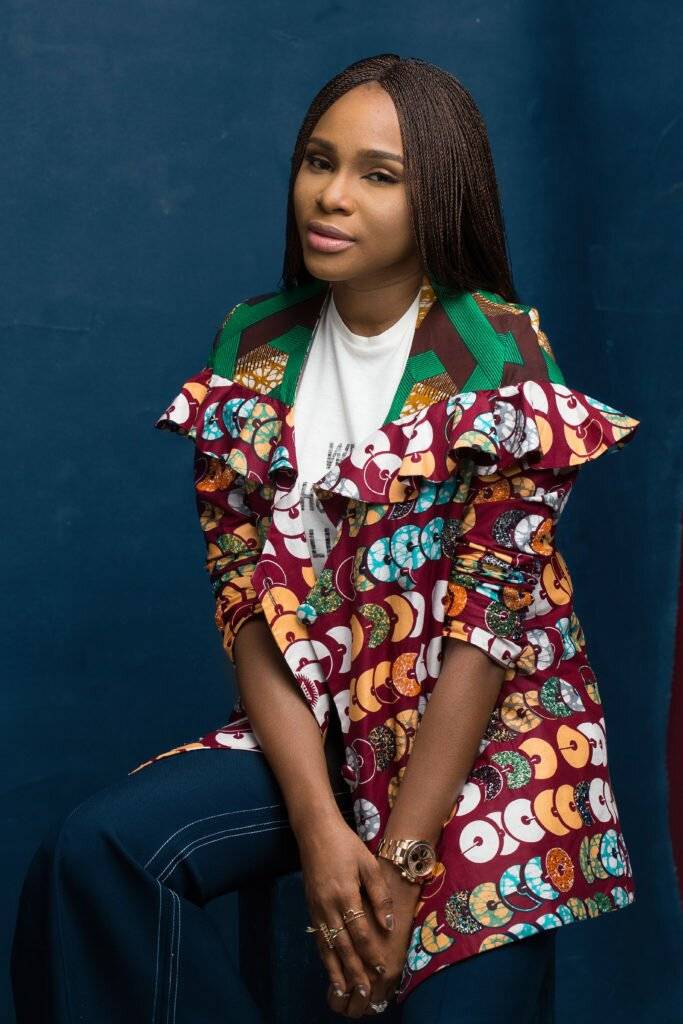 Q. What inspired you this season? 
This collection was purely influenced by my need to balance my idea of excess and moderation in fashion. With 'sustainability' being the focus of global fashion conversations, I found myself constantly asking what that word meant to me as a designer and for my brand. The amplified use of color to exaggerate silhouettes, the play of crystal embellishment, balanced with the repurposing of old prints from previous collections alongside the use of eco friendly fabrics and the incorporation of traditional batik techniques, not only answered my question satisfactorily but led me to tag this collection 'Less is more is less' . This reinstated the fact that though fashion is paired down for wearability and timelessness, it remains an expression of our times, culture, escape and fantasies.
Q. Can you give us a back story on the prints you designed?
We revisited our archives and focused on two prints. Our 'heart-on-heart' print designed for our Spring/Summer 2016 Collection 'She wears her heart on his sleeve'. A collection inspired by desire, love and entanglements. And our 'Dancing Lady' print from our Spring/Summer 2012 collection inspired by the love for dance and celebrations as part of the Nigerian culture. These prints are represented in commanding pink, blue and green hues.The timelessness of these prints reinforce the conscious reworking of old to make new. Another exciting part of the print design process was the creation of a new texture we've coined as 'Batkara' whilst creating new prints achieved by the application of our traditional batik techniques on the local Ankara fabric. The heart- on-heart print was recreated by hand drawings of hearts with the use of wax on the Ankara fabric and then applying over this the batik natural dye technique to create the Batkara. The use of digital prints, old age Ankara fabric and batik techniques arise a merging, yet again, of the old and new.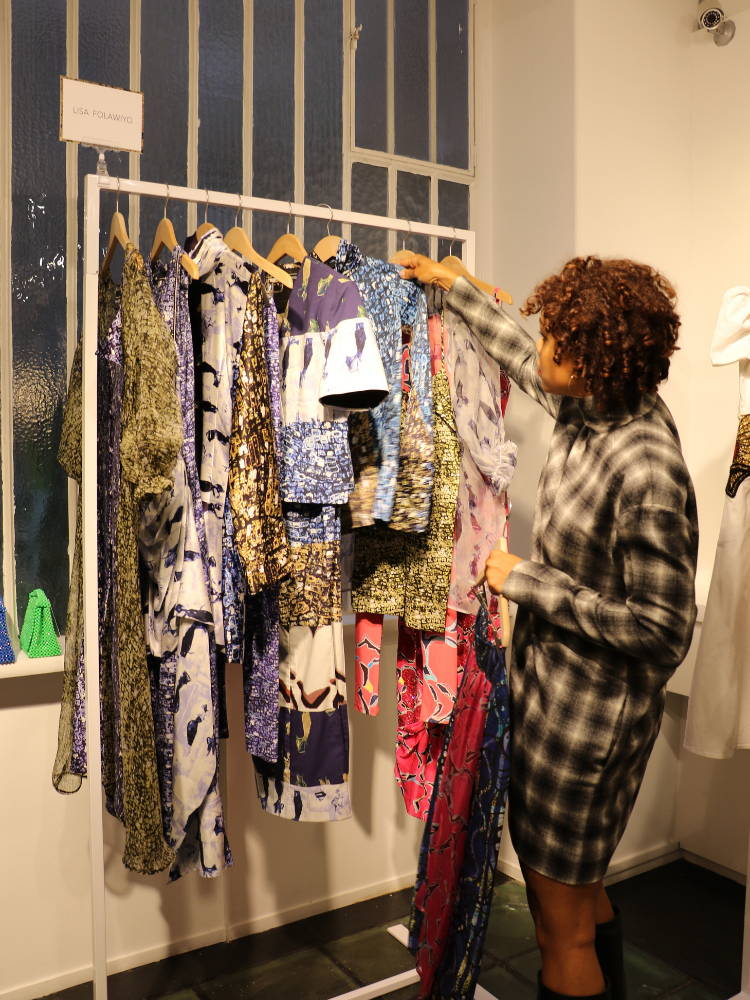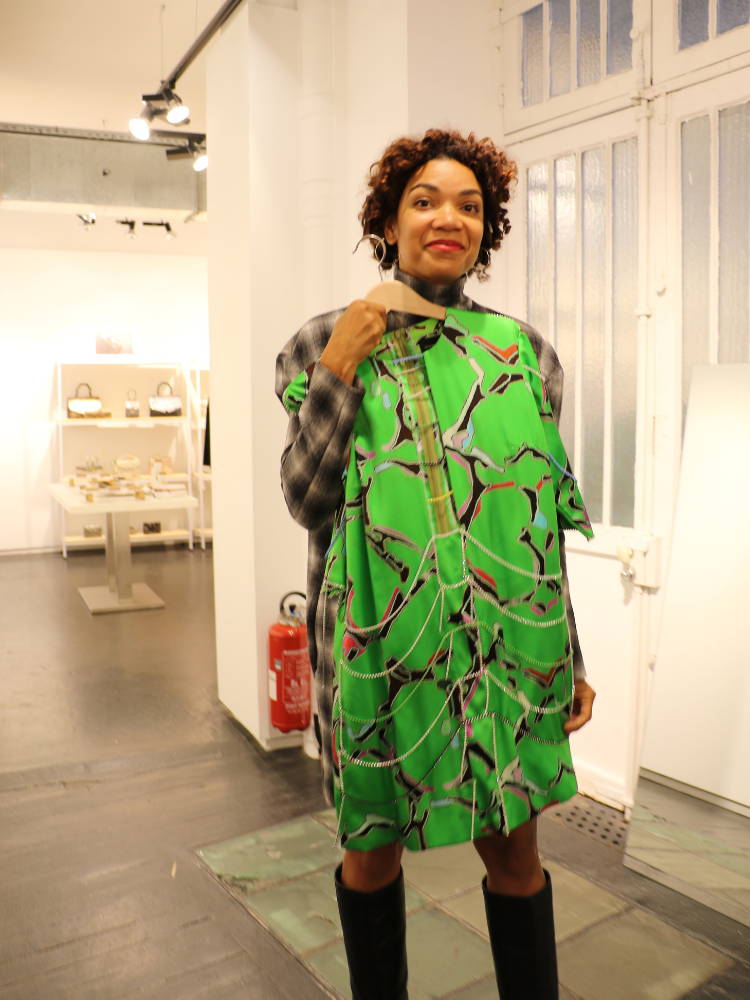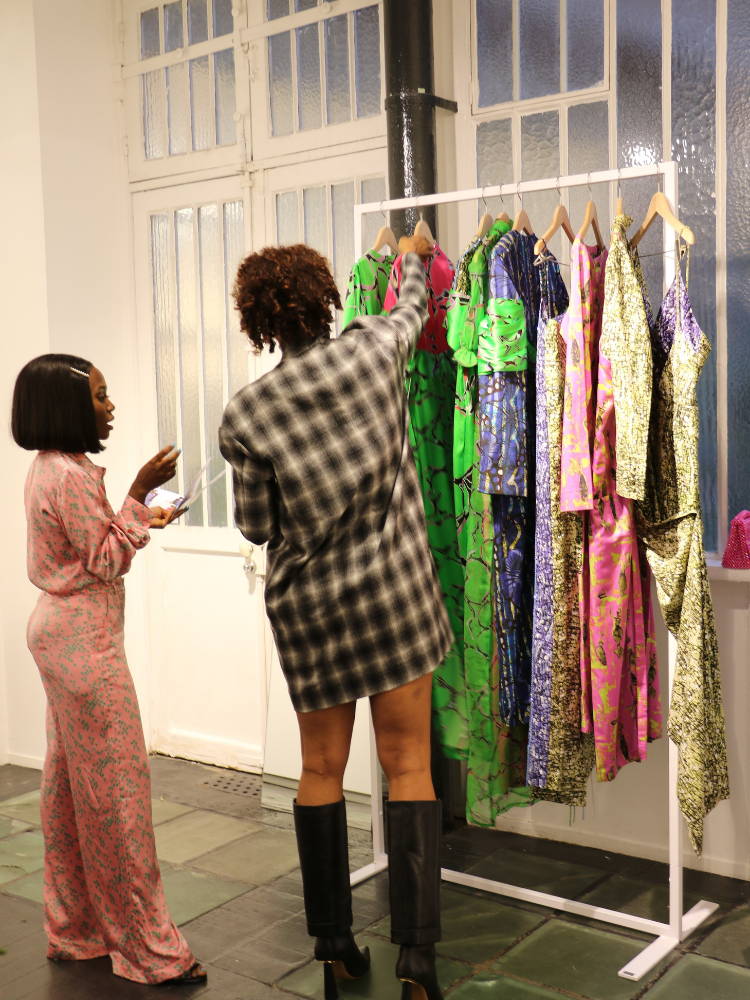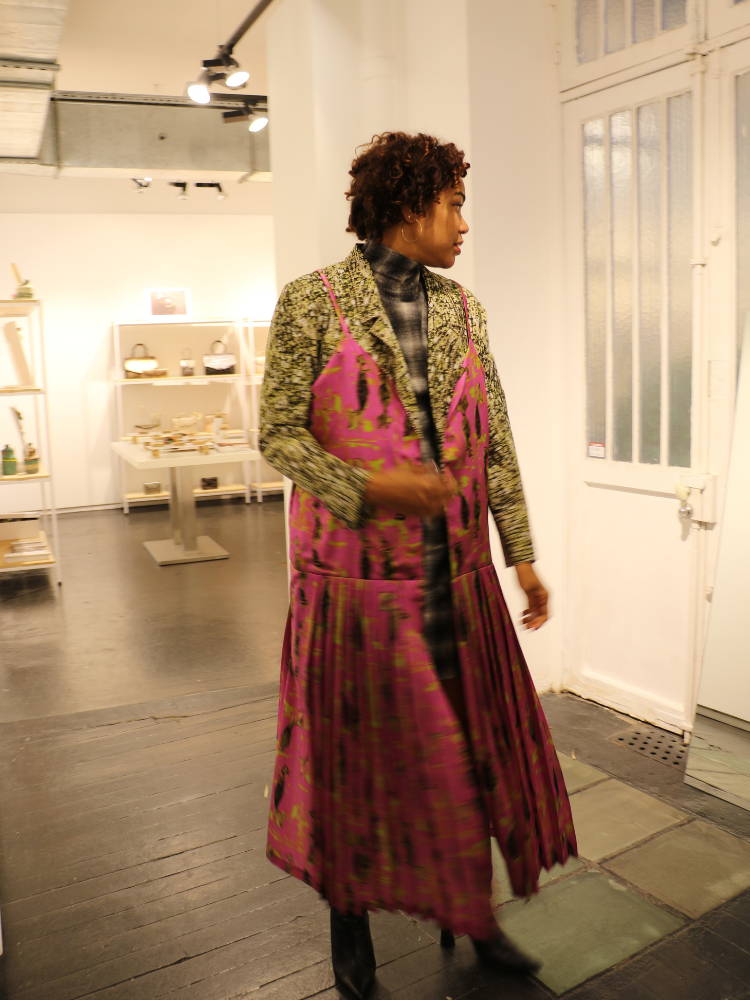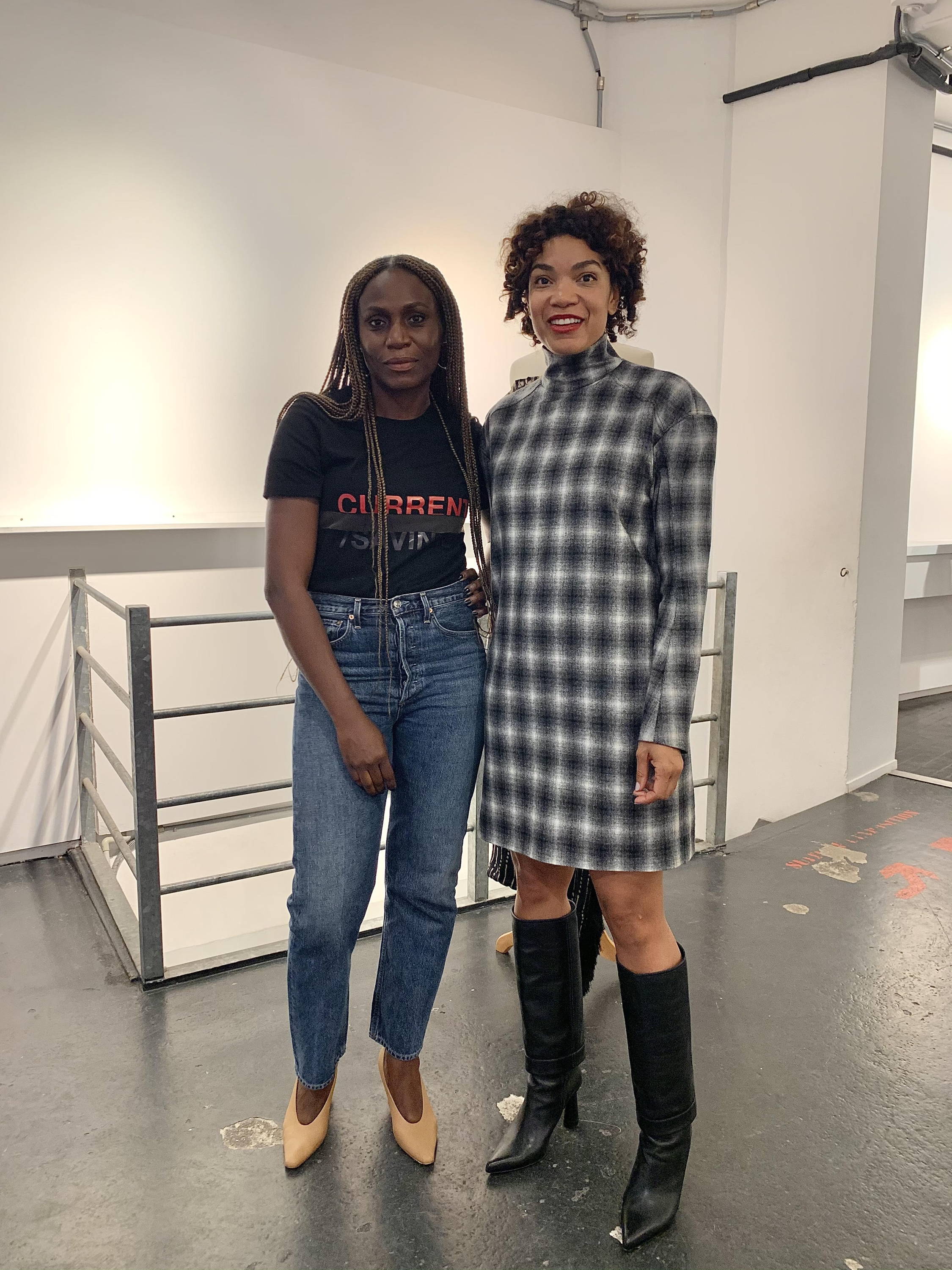 Sherri McMullen previewing the Lisa Folawiyo collection in Paris, France during Fashion Week for Fall 2020. The showroom, supported by Style House, was hosted at Gallery Sakura featuring an exclusive mix of various Nigerian designers from Lagos Fashion Week. Lagos Fashion Week Founder, Omoyemi Akerele (last image with Sherri), in collaboration with SheTrades commented on the ongoing partnership, "Since inception, Style House Files and Lagos Fashion Week, continuously seek ways to foster greater market opportunities and this works in tandem with SheTrades' mission to connect 3 million women to markets by 2021. Through this partnership, we aim to ensure female entrepreneurs and women-owned companies play an active role in international trade, opening up their brands to a global market." The alliance between Lagos Fashion Week and SheTrades Commonwealth on Paris Showrooms continues to provide impactful experiences for women-owned fashion businesses.
Christopher John Rogers Fall 2020
CFDA Emerging Designer of the Year: Christopher John Rogers Fall 2020 Christopher John Rogers Fall 2020 runway was the most anticipated show of the season. Christopher recently won the the 202...
Read more